Archive for April, 2008
April 30th, 2008
The view from my kitchen, Jing'an, Shanghai
April 30th, 2008
Sai Yee Street, Mongkok, Kowloon
April 30th, 2008
YMCA, Park Avenue at St. Viateur Street
YMHA, Mount Royal Avenue at Jeanne-Mance Street
In 1936, when these photos were taken, Montreal was just beginning to climb out of the Great Depression, which had hit this industrial city with particularly brute force. Unemployment remained high and thousands of the city's inhabitants lived in squalour — but not in Mile End. Though far from wealthy, the north end neighbourhood was reasonably prosperous, home to upwardly-mobile Jews, French-Canadians, Irish and immigrants from across Europe.
That diversity was reflected in Mile End's built fabric. The neighbourhood boasts a particularly impressive collection of churches, synagogues and other institutional structures: there's the Byzantine mystery of St. Michael's Church, the florid wedding-cake façade of the Église Saint-Enfant-Jésus and the faux-château styling of the former St. Louis City Hall at Laurier and the Main. In the midst of all this were two buildings that served the neighbourhood's two major religious and cultural communities: the Young Men's Christian Association, on Park Avenue, and the Young Men's Hebrew Association, on Mount Royal Avenue.
Both institutions were products of the moralistic zeal of the late nineteenth century. Although they differed in faith, their goals were similar, and each offered a network of social services designed to improve the physical, moral and social well-being of young Jews and Christians. The YMHA was particularly successful: in 1948, its members made up half of Canada's Olympic basketball team.
Eventually, though, the institutions took a divergent path. The Park Avenue YMCA eventually became a secular institution that served the entire community. By the late 1980s, though, its was so decrepit that it was torn down and rebuilt from scratch. The City of Montreal took the opportunity to jointly finance the construction of a new pool in the YMCA, replacing the public St. Michel Bath further east in the neighbourhood. Today, the Y is a focal point for community life in Mile End.
April 29th, 2008
Madrid's iconography is strictly prewar. Between the gratuitous ornamentation dripping from the buildings lining Gran Via and the interiors of crowded tapas, the city centre appears decked out in full late-19th century regalia, fit for admirers of coattails and opera gloves. Tread out along the boulevards bursting from the city's heart, however, and Madrid's palette of pale yellows and burnt ochres takes on a slightly different form.
In ways, the commercial outskirts of Madrid reprise a sort of cityscape that's as rare in Europe as it is fatiguingly common elsewhere. Black-ribboned towers wrapped in shades of brown and black will slump along streets that gape by whim, rather than necessity. The packs of pedestrians thin out. Walk along the arteries feeding the gargantuan Avenida de la Castellada, drown out the cheers from the Estadio Santiago Bernabeu, and one is in downtown Denver.
April 26th, 2008
Double-decker trams have crossed Hong Kong Island for more than a century. In Cantonese, people playfully refer to them as ding-ding, which is of course the sound they make as they rattle down the middle of congested streets.
April 26th, 2008
After awhile, even the largest city can shrink to the size of a village. On a good day, this creates a comfortable intimacy; on a bad day, it can impose a banal, oppressive familiarity. Passing through the same streets day after day, it's easy to lose sight of the things that so charmed you about them in the first place.
I try to avoid that by wandering through Montreal's laneways, its ruelles, as they're known in French. To walk through them is to uncover a secret city, a stripped-down, domestic one, the lipstick and blush of its streetscapes removed. The laneway experience is defined by the detritus of everyday life: the flutter of laundry drying on clotheslines, decrepit old sheds, gardens filled with vegetables, doors and gates through which you can glimpse the lives of others.
Laneways first emerged in Montreal in the mid-nineteenth century, but they were usually found only in middle-class and wealthy neighbourhoods. Poorer areas had courtyards accessible by portes cochères, which led to small workers' homes hidden behind larger buildings. By the dawn of the twentieth century, though, Montreal and most of its suburbs had begun to mandate the construction of laneways in new residential developments, seeing them as a solution to the city's sanitation problems. Eventually, nearly 500 kilometres of alleyways were built.
Montrealers have made great use of them. Every week, in the warm months, dozens of garage sales and bazaars can be found in the city's laneways, selling books, furniture and assorted junk. Three years ago, the YMCA in my neighbourhood organized an alleyway art fair that drew inspiration from those alleyway bazaars. Artists hung their paintings on backyard fences, a graffiti crew painted a cinderblock wall and somebody set up a television viewing room in an apartment building courtyard.
What makes laneways so alluring is their ephemeral nature: they change with the rhythm of daily life, never quite the same from one day to the next. There is always a new piece of discarded furniture waiting for someone to claim it; a previously unnoticed view through trees, fences, walls and wires; or a new piece of street art.
The street art, in particular, provides the laneways with ever-changing décor. Over the years, I've seen political statements ("25,000 Montrealers call this home" spray-painted on a brick wall, next to a drawing of a homeless man), paste-ups and graffiti and even poetry ("We walked in Lake Ontario / Up to our ankles in sour water / For the feeling of sinking, you said"). My favourite can still be seen in one of the ruelles near my apartment, where somebody has scrawled a succinct message in whimsical cursive to wanderers like myself: "I love you."
April 26th, 2008
One of the best places for people-watching in Hong Kong is in Mongkok, in the evening, especially in the artificial daylight of Sai Yeung Choi Street.
April 24th, 2008
Pierre Burton, the journalist, author and historian, once remarked of Calgary, "The two blocks between the Palliser Hotel and The Bay is the only part of the city that resembles its former self." While that's not altogether true (there are parts of town, like Inglewood and Ramsay, that retain the feel of a small prairie town) the area around First Street SW is probably the only part of Calgary with any real historical presence. Perhaps not coincidentally, it is one of the few parts of town with much urban vitality, too.
April 24th, 2008
Maplecourt, McGill Ghetto
On a cold, grey day last December, stir-crazy after more than a week of snow, I took a walk down Decarie Boulevard in Montreal. It's not the most obvious place for a stroll—a six-lane, sunken expressway runs down the middle of it—but it's a pretty interesting street nonetheless, taking you through a growing Russian neighbourhood and past old landmarks like the Snowdon Theatre and the Snowdon Deli.
Along the way from Van Horne to Queen Mary, I noticed something else, too: the names of the apartment houses along Decarie. Heading south, I passed a series of boxy 1940s-era buildings with strangely terse names—King, York, Michel—each inscribed very plainly above the main entrance. Some of the more modern buildings along the street had more flamboyant names, like the Decarie Towers, which as far as I could tell consisted of just one tower, and a fairly short one at that.
Historically, property developers have used names to distinguish and define their apartment buildings. They're a marketing gimmick, in other words. Inadvertently, though, apartment building names can reveal a lot about a city's character.
In Montreal, apartment houses first became fashionable in the late nineteenth century, mostly in the upper-middle-class anglophone neighbourhoods around the Golden Square Mile. That might explain why, in a city that was about half French-speaking, the names of these buildings were strikingly Anglo-Saxon. Some were reliably conservative, like the Waldorf and the Smithsonian. Others traded on imperial glory, like the King Edward and the Majestic. Still others were almost cloyingly quaint, like the Pickwick Arms.
April 22nd, 2008
Whenever I'm walking down the street in Hong Kong I think about all of the information I'm missing because I can't read Chinese: menus, advertisements, election signs, protest banners. (I'm particularly regretful I can't read the menus.) Sometimes, though, I wonder if I'm actually being given a break, considering how many thousands of words compete for your attention in the average Hong Kong street. Just look at all of the words written around this single doorway: to me, they're incomprehensible, but to any literate person they must be the visual equivalent of a screaming match.
April 21st, 2008
The geography of Lisbon bends pespectives – up, down, and around its seven hills. Beyond the occasional slow-swooping streetcar, the dramatic undulations of the city's streets are broken only by its graffiti, which boldly explodes against pastel-painted houses, or grafts messages – somehow both timely and timeless – deep into centuries-solid walls.
April 20th, 2008
It's a bit past 3am and I'm sitting with a few friends in the Nouveau Palais, a 24-hour diner just around the corner from my apartment. It's a classic Quebec casse-croûte with plastic booths and wood-panelled walls, a décor so timeless that, when the restaurant was damaged by fire a few years ago, its interior was painfully reconstructed to look just as it did before.
As we sit down, the waitress, a squat woman with a broad chest, narrow waist and constant frown, hands us our menus. Her skin is always tanned a deep orangey brown, even in the depths of winter, and her mood tends to swing from guardedly friendly to frighteningly surly with only the slightest provocation.
"I hate her so much," mutters one of my friends, who grew up a few blocks away from the restaurant. She likes to annoy the waitress with snide remarks and passive-aggressive questions.
"Once I asked her how often she went to the tanning salon and she freaked out. She was like, 'Tu penses-tu que j'ai le temps pour ça?' But it's so obvious!"
I open up the menu, a small book of photocopied paper, and try to decide what to get. My choices include all of the casse-croûte standards: hamburgers, poutine, souvlaki, fried rice, pizza, spaghetti and, of course, pizza-ghetti, that unbeatable combo of soggy pizza and overcooked pasta served side-by-side.
April 20th, 2008
Of all the kitsch that pervades Montreal's commercial signage, little is more gaudy and outlandish than its strip club signs. In other cities, they're discreet and euphemistic; here, they employ neon and cartoon illustrations to demonstrate what goes on inside. Nowhere is this more obvious than at Ste. Catherine and the Main, a corner that has been seedy for decades. In the early twentieth century, it was a busy shopping district, but it was also the heart of Montreal's red light district, with brothels, gambling parlours and bars that flourished during Prohibition, when Quebec was the only place in North America where booze flowed freely.
The queen of the corner is Café Cleopatra, which opened in 1969, one of the first modern-day strip clubs in Montreal. Its ground floor is aimed at straight men; upstairs, a more diverse crowd mingles inside the city's best-known tranny bar. Cleopatra's sign, which is cheeky and almost innocent by today's standards, promises a "unisex disco" with "strip-teaseuses" and "spectacles continuels." Its best feature is a nude, decidedly robust woman (Cleopatra herself?) lying on her side, red-striped headband tied around her golden locks of hair.
Further west, even more garish strip clubs and peep shows are found right in the heart of the downtown retail district. The most famous is Club Super Sexe, located on Ste. Catherine near the corner of University and likely the best-known strip club in Montreal. A large part of its notoriety comes from its two-storey sign, an orgy of blinking neon and caped, bikini-clad women flying through the nighttime sky. It must be quite an awesome sight for a teenager from upstate New York who has come to Montreal for his first taste of legal debauchery.
Two doors to the east, in a handsome greystone Gothic structure built in 1914, is Super Sexe's sister club, Super Contact. Its lurid neon signs, which depict two sets of disembodied hands grasping at the body of a busty stripper, are almost comically at odds with the forced sobriety of the building in which they are housed. The maternity store located immediately underneath Super Contact, its windows filled with posters of rosy-cheeked pregnant women, only adds to the irony.
They're tacky and unabashedly sexist, but the strip clubs along the downtown shopping strip are an essential ingredient in the street's heterogeneity, which is what makes it so appealing in the first place. Without the incongruous mix of chain clothing stores and strip clubs, their doormen trying to entice passers-by with obscene catchphrases ("Pussies, tits and giggly tits!" yelled one, in a lilting Caribbean accent, as I walked downtown last summer), Ste. Catherine would be just another humdrum high street.
April 19th, 2008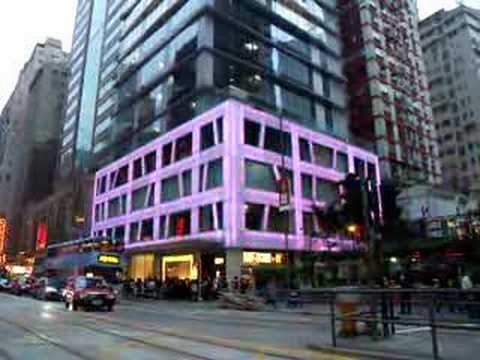 One of the things I love about Hong Kong is the city's captivation with light. There's the neon for which Hong Kong is famous, of course, but in recent years it has really taken to dressing up its buildings in LED displays. Here are two examples I came across while wandering around town. Below, a McDonald's sign backlit by neon, is really nothing exceptional, but it captures how even the most banal of businesses have invested in lighting displays. Above is the new LED-lit façade of the W Hotel in Wan Chai, which fades from one colour to the next between dusk and midnight.