January 8th, 2011
Earlier this week, the urban issues magazine Next American City tweeted a link to an illustrated cross-section of the Kowloon Walled City, the world's greatest informal settlement. It gives you a good idea of just how intense the level of human activity within the city was: one room a factory, the next a bedroom, the next a restaurant, all of it linked by an unplanned panoply of staircases, bridges and alleyways.
It has been nearly 18 years since the last piece of the Walled City was torn down by the Hong Kong government. Interest in the city has only magnified since then; there are books, documentaries, websites and discussion forum threads about its architecture, how it came to be and what it was like living inside. (This forum thread in particular is worth looking at — with 330 posts since 2004, it's as complete a repository of information as you'll find online.)
By the time it met its demise, the Walled City was an interconnected group of buildings, some up to 16 stories in height, that was home to 33,000 people. It covered an area of just 6.5 acres, making it the most densely-populated place on earth. Long notorious for its brothels and drug dens, it was also home to unlicenced dental clinics, small factories, restaurants and hundreds of ordinary working-class families, most of them recent migrants from mainland China. The entire city was built by hand, without a master plan: a shantytown in highrise form.
Like any shantytown, the Walled City's growth was gradual and organic, but it had an extraordinary reason for being. Originally a Qing Dynasty military outpost, it became a Chinese exclave when Hong Kong's New Territories were leased to Britain in 1898. For all intents and purposes, it was a no man's land, governed by neither China nor the UK. Squatters took advantage of this and settled around the old yamen, or administrative office. The population swelled when the Japanese invaded Hong Kong in World War II and boomed beyond measure in the 1950s and 60s, when hundreds of thousands of mainland Chinese refugees settled in Hong Kong.
It was perpetually dark inside the city, except at the old yamen, which remained untouched — the hole in the doughnut. There was no official power supply and most buildings stole electricity, which resulted in a bad fire in the mid-70s. In 1977, China Light and Power began hooking up the city to its grid. "We were at a loss where to begin," recalls one CLP employee who describes the city's buildings as "they're built one on top of the other, leaning here and there." In the end, he says, "we decided that we'd just have to make a start from the outside and work in — take the cable and enter inch by inch."
Photos from inside the city's passages show what looks like the back alley from hell: perpetually damp, piles of garbage and a ceiling of haphazardly-arranged pipes and wires. The rooftops were where the city's residents gathered to relax, socialize and breathe fresh air. Ad hoc ladders and staircases connected roofs of varying height, so you could actually walk from one side of the city to the other without venturing into the buildings below. One of my girlfriend's old coworkers, who is now in his thirties, grew up in the Walled City. "There were a lot of people doing shady business," he says. His best memories: playing on the rooftops in the afternoon sun.
Britain gained control over the Walled City in 1984, after it signed the joint declaration that arranged for the return of Hong Kong's sovereignty to China in 1997. In 1987, the Hong Kong government announced that the city would be demolished, and it was finally torn down in 1993. A park was built in its pace, with a stone wall tracing the outline of the city's boundaries. It's a nice enough park but it does a miserable job at conserving the heritage of the Walled City. There is more emphasis placed on the old military yamen, which was preserved, than on the incredible hive of humanity that once surrounded it. There's a scale model of the city, and a few plaques, but standing in the midst of trees, surrounding by a faux-historical wall, it's impossible to even imagine its presence.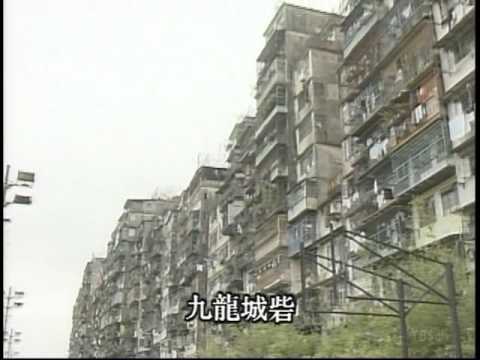 Tags:
Hong Kong
,
Informal Settlements
,
Kowloon
,
Kowloon Walled City
,
Rooftops
,
Squatters
Both comments and pings are currently closed.
RSS 2.0
One comment
Alanah says:

i have the full poster up on my wall (its about twice as wide as the linked image). you're welcome to come by and see it next time you're in mtl.

January 9th, 2011 at 11:19 pm